Faith and Life commission engages in ecumenical dialogue and discovers own convictions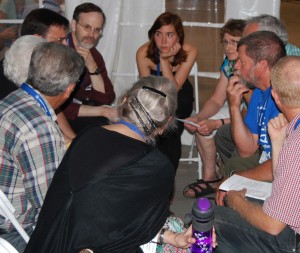 By Karla Braun
Why is the Mennonite World Conference Faith and Life Commission spending time with Catholics? At the workshop "Beyond the Shared Convictions: The Work of the MWC Faith and Life Commission," chair Alfred Neufeld explained the commission's mandate: to promote theological conversation, learn how members understand and describe Anabaptist faith and life, receive and give counsel and hold each other accountable.
One of the ways the commission has engaged this work has been "receptive ecumenism [with other denominations]: listening to each other's struggles," says Neufeld.
In addition to significant conversations with the Lutheran World Federation that culminated in a service of reconciliation in 2010, the commission has dialogued with the Seventh Day Adventist church and is now engaged in an ongoing "trialogue" on baptism with the Lutheran World Federation and Pontifical Council for Promoting Christian Unity.
"This work needs lots of sensitivity and wisdom," says Neufeld, asking for prayer.
These conversations have challenged Anabaptist humility ("The Seventh Day Adventists kept talking about their problems, not their accomplishments") and called for an examination of grace ("We are people of the law; how do we become people of grace?").
Neufeld urged Anabaptists to use the opportunity of approaching anniversaries (Reformation 2017 and Anabaptism 2025) to reclaim identity, by describing who we are and who we aspire to be, rather than by what we are not.
Every generation needs to renew what it means to be Anabaptist, said commission secretary John D. Roth. Neufeld suggested the 500th anniversary be framed as "Renewal 2025."
The Faith and Life Commission also oversees several groups including the Global Anabaptist Mennonite Encyclopedia Online, and is exploring closer connections with the educators network and women theologians networks.
Agenda items for the coming years include reporting the results of the Global Anabaptist Profile, a study around the MWC Shared Convictions, and doing theological work on understandings of "just peace."
Commission members conducted 16 workshops during PA 2015, including ones on the Seventh Day Adventist dialogue and trilateral dialogues.
Karla Braun has been associate editor the MB Herald (magazine of the Canadian Conference of Mennonite Brethren Churches) and will become editor of Courrier-Correo-Courier after Assembly.