PA 2015 Saturday night worship service
By Doreen Martens
Harrisburg, Pennsylvania, USA – Love for neighbour is absolutely central to the gospel, speaker Bruxy Cavey said in the final plenary service of PA 2015. This evening saw the passing of leadership from Mennonite World Conference president Danisa Ndlovu to incoming president Nelson Kraybill.
In a reflection on Galatians 5:22–23 laced with humour, Cavey (teaching pastor at The Meeting House, a large Brethren in Christ church in Ontario, Canada) praised Anabaptists for carrying the simple, clear message of Jesus through the centuries: that love for others as an essential reflection of love for God.
"We are a peace church because we are first and foremost a Jesus church," said Cavey.
The Fruit of the Spirit listed in the theme text, he pointed out, are all reflections of the first: love.
"The Spirit's work in us is the work of love. . . . To the extent that we recognize and identify love, we will be partnering with the Holy Spirit."
Cavey uses a rock to explain to his daughters that love means more than just being nice; it means taking the initiative to do good.
The rock is "not being rude, it's not hurting anyone's feelings. It's just sitting there," he said. "Love is going beyond the ethics of a rock."
Agape, he said, is the choice to relate to someone as valuable.
"We don't parse out that this is worship and this is service, this is worship and this is evangelism; it's all worship," Cavey said. "Our religion is relationship; it's worked out in how we love those around us."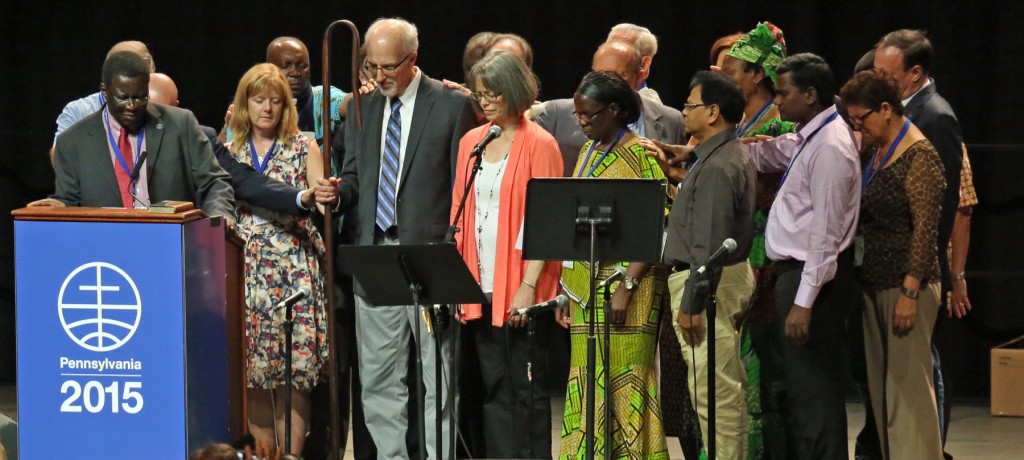 Assembly Gathered closes
As Assembly Gathered came to a close, MWC general secretary César García praised outgoing president Danisa Ndlovu's servant leadership for the past six years. García presented him with a shepherd's staff to serve as a symbol of succession.
Ndlovu said the assembly had given him reason to feel he had "finished well," particularly because he was going out with the awesome music enjoyed by more than 7,500 participants.
He also paid tribute to Janet Plenert, who has served 12 years with MWC, the last six as vice president. Both were presented with the gift of Amish foot-washing containers.
Rebecca Osiro, the first woman to be ordained in the Mennonite Church of Kenya and a longtime MWC representative for East Africa, was introduced as the new vice president of MWC.
Kraybill, former president of Anabaptist Mennonite Biblical Seminary, Elkhart, Indiana, received the shepherd's staff from Ndlovu in a ceremony installing him as president.
"My prayer is that before the watching world we will get on with the work of reconciliation," Kraybill said.
The joyful service was filled with the music of the Mennonite Children's Choir of Lancaster, the Mennonite Heritage Chorale Men's Ensemble and songs from American folk and blues traditions.
It ended with "the national anthem of Mennonites in North America," an acapella "Praise God from Whom all Blessings Flow." A fitting end for North America Day as participants began looking forward to the next gathering in Indonesia in 2021.
Doreen Martens is a journalist from Ontario. She contributed to the Meetinghouse coverage of Assembly 2015.