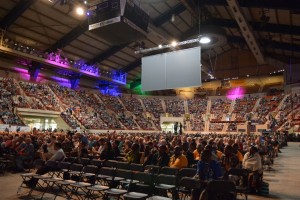 MWC Assemblies are reunions of the Anabaptist-Mennonite family worldwide and take place every six years.
The 16th Assembly was held 21-26 July 2015 in Harrisburg, Pennsylvania. Assembly Gathered happened at one place and Assembly Scattered took place at multiple sites. The theme was Walking with God. The Global Youth Summit (18+) was held 17-19 July 2015 at Messiah College in Mechanicsburg, Pennsylvania, USA.
For our PA 2015 Proceedings Book click here.