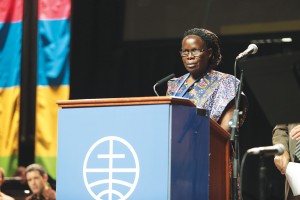 In her morning sermon, Rebecca Osiro of Kenya argued that doubt can promote strong conviction. Photo by Jon Carlson
---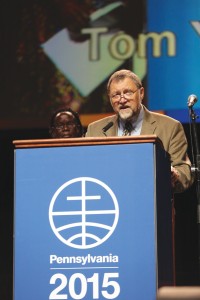 Speaking on the day's theme of "Walking in Doubt and Conviction," Tom Yoder Neufeld of Canada declared, "The Bible gives witness of God being with us, even in the darkest night." Photo by Jon Carlson
---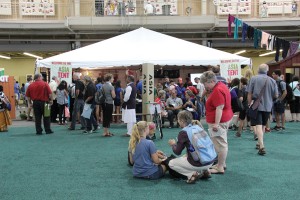 At the Global Church Village, Assembly participants encountered displays of culture and church life in different continents. Photo by Dania Ciptadi
---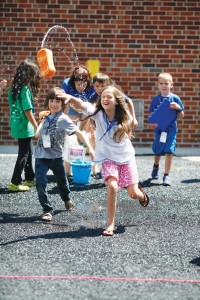 Activities for children included water games like a wet sponge toss. Photo by Rhoda Shirk
---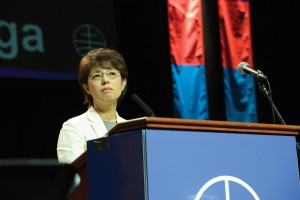 Yukari Kaga of Japan preached the sermon at the evening worship service, focusing on "Walking in Doubt and Conviction." Photo by Kazutomo Ray Epp
---
Updates
#mwcmm
If you're tweeting, Facebook-ing or Instagram-ing about PA 2015, please use the hashtag #mwcmm. We're using this tag across social media platforms.
Announcements for Daily News Sheet
All announcements for the daily news sheet must be submitted by 19:00 the evening before they need to appear in the sheet. Announcements can be submitted to dailynews@mwc-cmm.org. This timing is a change from the earlier communication about announcements.
Sunday Church Visits
Area Brethren in Christ and Mennonite churches are looking forward to hosting Assembly participants this Sunday, 26 July. Please go as soon as possible to the "Sunday 26 July Church Visit" table to register or re-confirm your plans to travel by bus to area churches on Sunday.
Visit the MWC Tent
Do you celebrate Peace Sunday or World Fellowship Sunday in your congregation? Do you know when they take place? Come and learn more in the MWC Tent in the Global Church Village.
Half-Day Tour Reminder
If you have signed up for an afternoon tour, please arrive at least 15 minutes before your departure time in the Expo Hall (A). Tours will leave promptly at their appointed times.
Tour Departures
If you are registered for a tour, please check the back of your nametag for the date and time of your tour. Some tours will leave at 12:45 and others will leave later in the afternoon. If you have any questions, please stop by the tour desk in the Cameron Street Lobby.
If your tour leaves at 12:45 and you have purchased a meal plans, you will not need to eat before the tour, but a boxed lunch will be provided for you. If you tour leaves later than 12:45, you will need to eat lunch before your tour.
Tour Departure Location
Tours will depart from the center of the Expo Hall (A), not from outside as originally stated in your tour books. Please find the tour lines in the middle of the Expo Hall (A).
Join for Prayer
All are welcome to attend a time of morning prayer in the Mennonite World Conference prayer room each morning from 8:30 to 9:15. The prayer room is located in the Erie Room, which is between H (Main Hall) and E (North Hall) in the Crossroads Conference Center.
Workshop Changes
The workshop "Walking in Tragedy: The Global Church in Disaster Response," originally scheduled for Friday at 13:30, has been moved to Saturday at 13:30 in A4.  The workshop "Liturgy and the Transformation of Creation and Community" (Fri., 13:30) has been moved from G3 to A11. The workshop "Contemplative Creation" (Fri., 15:30) has been moved from G3 to G2.
Translators Needed
The Assembly Communication Team is looking for people to translate written English text into Spanish and French. If you can volunteer for one or more four-hour shifts, mornings or afternoons, now through Saturday, contact jnofziger@lmhs.org or text 717-917-2701. The Assembly Communication Team is also looking for a French editor who could devote about one hour per day to review translated text.
Global Women's Space
A joint meeting of women theologians from all continental regions will be held Friday, 24 July from 13:30 to 17:00. The meeting will focus on the formation of a global network of women. Discussion will center on network objectives, relationship to MWC, how to involve young women and how women can support each other. The meeting will be held in the Delaware Room (H-2). Directions: From the Cameron Street Lobby, follow signs to H (Main Hall); go through Main Hall to the lobby area, turn left, and go up the stairs. Delaware Room is beside Susquehanna Room.
MCC Display
Come to the Mennonite Central Committee display in North Hall. Learn more about MCC's work and get your own souvenir of MCC's dedication to reusing and recycling – a scarf repurposed from T-shirts.
Cyclists' Circle
The MCC East Coast Bike Ride Committee is hosting a gathering on Friday, 24 July, 17:30-18:30, for all who enjoy riding a bike, have participated in organized rides or are otherwise interested in cycling. Join us! Trail mix munchies will be offered and an insulated Polar Bottle will be raffled off.
Protest Drone Warfare
Public witnesses to "Stop Drone Terrorism" are being organized by www.1040forPeace.org in the Pennsylvania State Capitol Rotunda on Friday, 24 July at noon, and at the emerging drone warfare command center in Horsham, Pennsylvania, on Saturday, 25 July. For more information and opportunities to sign up, visit the drone replica in the Global Church Village.
Seminary Check-In
Alumni of Anabaptist Mennonite Biblical Seminary (12 credit hours or more) are invited to sign in at the AMBS booth and get a ribbon for your nametag. Over 170 alumni from six continents have already signed in!
Recycle
When you have finished reading your daily news sheet, please recycle it.