Applique brings chance meeting of friends of friends from Uruguay, Paraguay, and Pennsylvania
By Jewel Showalter
Harrisburg, Pennsylvania, U.S.A. – Helena Dueck from Akron, Pennsylvania, was quietly stitching delicate applique in the quilting hall when a young woman asked excitedly, "Are you Helena Dueck?"
"Yes, I am," said Dueck, looking up from her quilt. "How do you know me?"
Lilia Dietrick, from Uruguay, could hardly contain herself. "I'm a friend of your niece, Gisela Giesbrecht. When Gisela heard I was going to MWC she told me to look up her aunt who is famous for her applique work. So when I saw you doing applique, I just thought I'd ask!"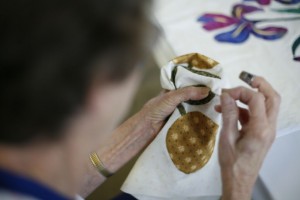 Dueck's niece lives in Rhineland in the Chaco in Paraguay but had learned to know Dietrick when their youth group visited Uruguay.
"I'm so amazed by this special meeting with my niece's friend all the way from Uruguay – the effort she took to look me up. And I wasn't even wearing my name tag!" Dueck said.
Jewel Showalter is a writer, grandmother of 14, and servant of the global church.