Quilting and comforter activities link participants to MCC's work
By Byron Rempel-Burkholder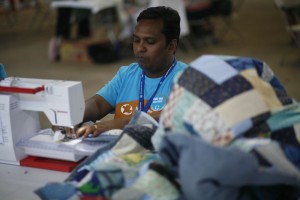 Sushant Nand looks up from one of the Bernini sewing machines at the section of the hall devoted to quilt and comforter-making. A passerby is asking him if he is a tailor by trade.
He smiles. "No, I just wanted to learn about how Mennonite Central Committee operates, so that I can communicate it to other young people."
Nand, who has just learned the basics of using the machine, plans to participate in the MCC food-canning project.
In Calcutta, India, Nand is local MCC coordinator for international youth exchanges, including the MWC-MCC joint program YAMEN! He also helps facilitate the all-India Mennonite youth conference, another venue in which he can apply how material aid works from "behind the scenes."
Nand's experience illustrates what the service projects intend: to build awareness about MCC's work while offering opportunities to participate in it.
The projects also help participants learn something about culture: "Pennsylvania has such a tradition of quilt making," said a local quilting mentor Mae Stoltzfus. "It's worth paying attention to."
In the quilting section, three quilts were stretched out on square frames where women, men and teenagers sat and stitched the elaborate patterns North American Mennonites, Amish and Brethren in Christ have created for generations.
In the coming year, these quilts will be auctioned at MCC relief sales around North America.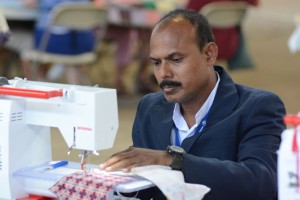 In the adjacent comforter section, dozens of teenagers and adults make warm comforters. Some, like Sushant Nand, sew together patches of fabric for the comforter covers, using 14 new Bernini sewing machines on loan from a local business. Dozens of others sit at frames, tying the covers together with string. These comforters will be shipped overseas to be used in refugee camps and other places of need.
The quilting and comforter service projects were coordinated and staffed by volunteers the MCC Material Resource Centre in Ephratha, Pennsylvania, says comforter coordinator Mary W. Martin. The Assembly projects replicate what happens at the centre, where hundreds of local volunteers stitch and sew to support the work of MCC.
Byron Rempel-Burkholder is a freelance writer and editor from Winnipeg.