MDS house build at Mennonite World Conference Assembly erects homes in 5 days
Harrisburg, Pennsylvania, USA – Pounding nails may be the last activity one might expect at an international church convention, but for many at the Mennonite World Conference's PA 2015, it was a perfect fit.
Every afternoon, just outside the air-conditioned halls of the Harrisburg Farm Show Complex, two prefabricated houses were built by participants looking for a way to use their muscles that would connect meaningfully to their faith.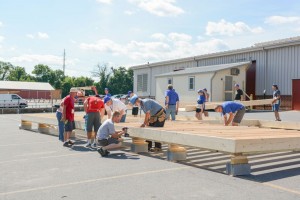 "You always talk about church but you don't do anything," Alex Noord remembers his seventeen-year-old son Neils telling him in their home in the Netherlands. Now, attending the Assembly with Neils and 14-year-old Tymen, he and his sons got a chance to "do" something.
In the hot Pennsylvania sun, Neils and Tymen nailed studs into the wall frames of one of the houses, which were destined for two families who lost their homes in natural disasters: one in Nebraska and the other in Maryland.
"I like to work with technical things," Neils said. "Building a home feels great."
The construction of prefabricated houses by volunteers under the Partnership Home Program is one part of the work of Mennonite Disaster Service, headquartered in Pennsylvania. Each year, MDS also sends dozens of volunteer teams to scenes of flooding and disaster throughout North America to help victims clean up, repair and rebuild their homes.
At PA 2015, MDS staff and volunteers were on hand to guide some 30 volunteers each day to help construct the houses' floors and walls, which would eventually be dissembled and packaged for transport.
Participants included people of all ages, many of them inexperienced in construction. Darwin Villacis, part of a mission church in Ecuador, contributed two afternoons to the project in order to observe how North Americans built their houses.
"I have talent in my hands; I don't have talent with my words and my tongue," said the 47-year-old mechanic.
Marcela Dow had never handled a hammer before. The 15-year-old and her youth group from Philadelphia, Pennsylvania, volunteered "because it's always fun to help people; you can see the change you're bringing."
Byron Rempel-Burkholder is a writer and editor from Winnipeg, Manitoba, Canada.