Christ's Lordship prevails over denied visas, ethnic conflict and interdenominational differences
By Connie Faber
Harrisburg, Pennsylvania, USA – Nzuzi Mukawa, Mennonite Brethren pastor and educator from DR Congo, challenged his audience 23 July 2015 to leave Mennonite World Conference PA 2015 as men and women who are reconciled with God and with others.
The conflict of Mukawa's text, 1 Samuel 25:1–35, begins with one person: Nabal. When the rich but insensitive man rejects David's request for help, David seeks revenge.
The resolution to this conflict also begins with one person: Abigail. When David accepts her gift of reconciliation, the conflict is resolved.
"Why is there so much conflict in the world?" asked Mukawa. "Because people are accepting the ideas of Nabal."
When people take advantage of wealth, education and power, the result is conflict in families, among countries and even in the church.
"We need men and women who will adopt the attitude of Abigail, to go toward the other," said Mukawa.
Reconciliation is the work of God, said Mukawa, referring to 2 Corinthians 5:17–20. "In the moment when we were God's enemies, God came toward us. God has reconciled us in Christ Jesus.
"[His is the only] name has been given by which we can be saved," he said.
God calls his disciples to proclaim the cross and to work for the resolution of conflict. Citing current examples from around the world, Mukawa called for a resolution to ethnic, tribal and racial conflict.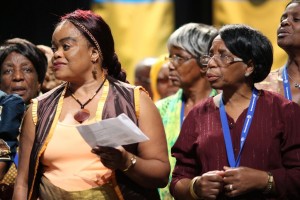 The MWC Assembly represents the great diversity we will enjoy in heaven, said Mukawa. "I am happy for that day."
The ecumenical greetings from representatives from the World Council of Churches, Lutheran World Federation and General Conference of Seventh Day Adventist highlighted the Anabaptist commitment to peace and reconciliation.
Despite missing singers, the evening's Africa-themed music was enthusiastic and energetic. Brethren Choral Sounds Choir from Zimbabwe numbered about 40 singers. Only five singers represented Eastleigh Fellowship Choir from Kenya; the other 25 were denied visas.
Master of ceremonies Don McNiven led the audience in a moment of silent prayer for the many potential participants who were missing because their visas were denied.
Connie Faber is editor of the Christian Leader. She is part of the Meetinghouse team of editors reporting on the plenary sessions at Assembly 16.