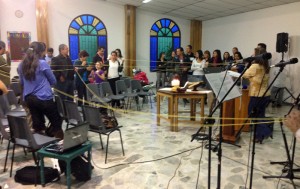 Harrisburg, Pennsylvania, USA – Attendees of PA 2015, the Mennonite World Conference (MWC) Assembly, will spend 26 July, the final day of the event, with Mennonite and Brethren in Christ congregations within a two-hour radius of the Farm Show Complex in Harrisburg.
"Since there are so many Anabaptist-related congregations close by, we asked if they would host our Sunday morning worship," said Liesa Unger of Germany, Chief International Events Officer for MWC. "It's an extraordinary opportunity for all of us to fellowship together in local churches – both for those who live here and those who are visiting. We want to experience North American congregational life."
Worship resources available globally
MWC has created worship materials to be used by congregations on 26 July, wherever they are in the world. "We're especially mindful of belonging to a global family of faith as we anticipate PA 2015," commented Unger. "So we're inviting Anabaptist-related congregations everywhere to use the Sunday morning worship materials." They are available at www.mwc-cmm.org/26julyworship in English, Spanish, and French.
During PA 2015, more than 6,500 registrants from more than 70 countries will gather in community, fellowship and worship around the theme, "Walking with God." Sunday morning's worship extends that subject to "Walking with God – Stepping Forward," based on Acts 18:22-28.
Included in the materials are a proposed order of service, several prayers, a responsive reading based on Psalm 145, three songs with words and music (one each from Argentina, southern Africa and the Philippines), and a suggested Sermon outline, prepared by Nelson Kraybill, incoming MWC President. In addition, a video of PA 2015 highlights will be posted just before July 26 at www.mwc-cmm.org/26julyworship for showing in the service.
Local congregations step up with hospitality
More than 45 congregations have asked for the opportunity to host their sisters and brothers for worship and fellowship on July 26. Rebecca Pereverzoff, who's assigning guests to hosting churches, has heard many stories.
Conestoga Mennonite Church, near Morgantown, PA, has some 120 attendees on most Sunday mornings. Their response to the invitation to welcome PA 2015 guests: "We are prepared to feed 100+ guests that day. But if there are only 50 available, that's okay, too. Our Sunday School begins at 9:30 a.m. If our guests come then, please let us know ahead of time. We all care deeply about worshipping with Anabaptists around the world. Can't wait for July to arrive!"
Weaverland Mennonite Church, near East Earl, PA, offers two services on most Sundays to accommodate the hundreds of people who attend. Even though their kitchen is being remodeled this summer, they volunteered to host 70-75 guests. The woman who coordinates food for their congregational events will host the visitors, along with her family, at their home for lunch that day.
"What better way to enlarge our experience of worship and faith community than to share prayers, singing and Scripture together, and then to top it off with lunch and visiting," remarked Unger.
Article by Phyllis Pellman Good, a writer and editor for Mennonite World Conference
[Sidebar]
Homestay hospitality stories
Lyndell Thiessen who's working with a team to assign guests to individual homes, tells these stories and remarks, "I continue to be humbled by the hosts and their enthusiasm for hosting":
One hosting household is renting four roll-away beds so they can have more people.
Several hosts will make more than one trip to deliver their guests to the shuttle stops because they have more space in their houses to offer, but not enough room in their cars.
Two hosts, both dealing with the sudden deaths of their husbands, want to keep their commitment to host. They say it's important to them to do that.
One host is so excited about her guests from Zimbabwe that she's making them small comforter quilts as a gift. She is getting her Amish neighbor to help her with the design.
Leon Stauffer, Coordinator of Homestay Shuttle Transportation, and his wife, Nancy, have chosen to stay close by the homestay departure area during PA 2015, rather than staying with MWC staff in Harrisburg. More than 1,000 guests are lodging in about 350 homes. The Stauffers want to be available to assist in the smooth, timely morning departure of the 21 buses taking guests to the Assembly.
When one host was told that six persons would be placed in her home, she replied, "Only six? We asked for 16!"