Bearing Witness Stories Project carries on work of Martyr's Mirror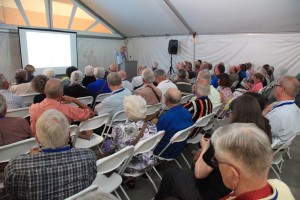 "Anabaptist witness in the face of suffering did not end in Europe in the 16th century," explained John D. Roth, secretary of the Mennonite World Conference Faith and Life Commission and professor of history at Goshen College, during a workshop at PA 2015, the MWC Assembly in Harrisburg, Pennsylvania, USA.
With those words, Roth made the case for the Bearing Witness Stories Project, an initiative of Goshen's Institute for the Study of Global Anabaptism that seeks to collect "stories of believers from around the world who have continued to bear witness to their faith at great cost."
The project is gathering stories of "costly discipleship" in written, audio and video format. Stories span from the 17th to the 21st century.
Though not an official MWC initiative, the project has the approval and support of MWC.
In his presentation, Roth underscored a primary goal of the project: encouraging "a deeper sense of connectedness…within the global Anabaptist community." This goal is met, he said, by focusing specifically on the experiences of Anabaptist communities in the Global South.
To showcase this goal in action, at the workshop Roth interviewed Adi Walujo, a pastor in the Gereja Injili di Tanah Jawa (GITJ) Mennonite Church in Indonesia, who described his congregations' witness of perseverance and enemy love in their predominantly Muslim context.
Learn more about the project, including how to contribute, at www.martyrstories.org.
—Devin Manzullo-Thomas is editor of Courier-Correo-Courrier, the magazine of Mennonite World Conference.