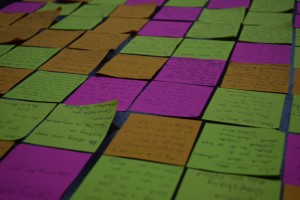 Mennonite World Conference's Global Youth Summit is celebrating the gifts that each young adult brings to the global church.  One gift is the encouragement and model of Conscientious Objection: refusing mandatory military service in order to follow Jesus' way of peace.
GYS participants celebrated COs today, writing notes to encourage Sang-Min Lee, the first Mennonite CO in South Korea, who is currently in jail for refusing to serve in South Korea's military.  While Lee couldn't be present at GYS, Oscar Suarez, GYS delegate from Iglesia Menonita de Colombia, stands among the summit participants as an in-the-flesh model of the challenges of conscientious objection.
Oscar started coming to the Mennonite church when he was 11 and the Anabaptist teaching about non-violence convicted him. "Due to the war on drugs and the guerilla faction, at some point a military serviceman in Colombia will be required to shoot someone. I don't want to participate in learning to kill other people," he explained.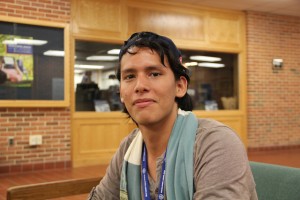 In Colombia, every man at the age of 18 is required to complete 1-3 years of military service, after which the servicemen will obtain a certificate of completion. "Without this certificate, it is very hard to find a job. In the past, it was even impossible to finish university," he added. Oscar is the first conscientious objector in his local church in Ibagué, four hours drive from Colombia's capital city Bogotá.
"My family is worried for my future because I don't have this certificate, but they and my church are supportive of my decision," the third-year music student continued. Nevertheless, Oscar is hopeful that the work of Justapaz and other organizations in advocating for the rights of conscientious objectors and creating a path for alternative service will continue to bear fruit. Since 2009, some conscientious objectors have been able to avoid military service on the grounds of faith. Also, objectors are now able to graduate from university without completing military service. Each conscientious objector still has to legally fight for these rights, however.
Oscar's choice has started a rigorous discussion with the teenagers in his congregation about whether putting a bullet in someone's chest is the only way to serve the country. "Young people are more interested in learning about the Anabaptist teaching of peace, and some teenagers are seriously considering not serving in the military," he mentioned. The church is also becoming more involved in sharing in the community about the message of conscientious objection. "Their support has strengthened my resolve. This challenge has brought my family, my church and the community together," he added.
Asked what he would say to other conscientious objectors like Lee who are facing difficulties because of their faith, he quoted Philippians 1:21 – To live is Christ and to die is gain. "There is an element of sacrifice in following Christ. In whatever we do, we do it for Christ, not for our own benefit," Oscar said.
By Elina Ciptadi-Perkins, Indonesia