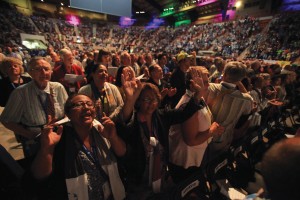 PA 2015 participants worshiped in many different languages. Photo by Rhoda Shirk
---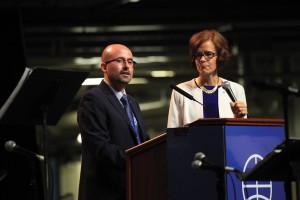 César García of Colombia, MWC general secretary, preached the opening sermon on the Assembly theme, "Walking with God." MWC Vice President Janet Plenert translated. Photo by Jonathan Charles
---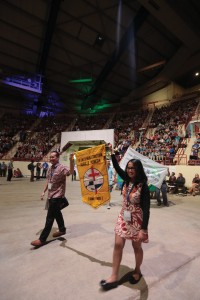 To the tune of "When the Saints Go Marching In," banner carriers representing MWC's 102 member churches processed into the opening worship service. Photo by Remilyn Mondez
---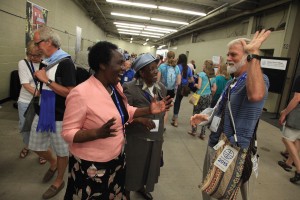 Fellowship and joyful reunions characterized the first day of PA 2015 in Harrisburg, Pennsylvania, USA. Photo by Jonathan Charles
---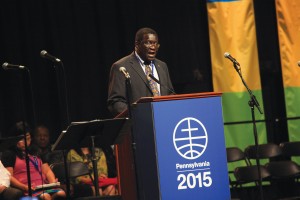 Danisa Ndlovu of Zimbabwe, president of MWC, brought words of welcome. Photo by Jonathan Charles
---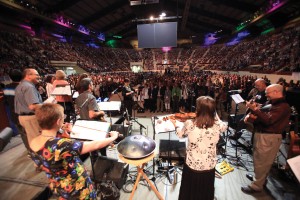 An international choir led in song during the opening worship service of PA 2015. Photo by Jonathan Charles
---
Updates
Assembly News on the Web
Want to know more about the events, activities and personalities at PA 2015? Stay up to date with the latest about Assembly by visiting the MWC website (pa2015.mwc-cmm.org), liking us on Facebook (facebook.com/ MennoniteWorldConference) and following us on Twitter.
#mwcmm
If you're tweeting, Facebook-ing or Instagram-ing about PA 2015, please use the hashtag #mwcmm. We're using this tag across social media platforms.
MWC App
Did you know there is an MWC app for your smartphone? Find a link to download it for free at pa2015.mwc-cmm.org
Announcements for Daily News Sheet
All announcements for the daily news sheet must be submitted by 19:00 the evening before they need to appear in the sheet. Announcements can be submitted to dailynews@mwc-cmm.org. This timing is a change from the earlier communication about announcements.
Visit the MWC Tent
Have you heard of the Global Church Village Challenge in the MWC Tent? Try one or try them all! Come and pick up your Challenge at the tent, or find it on the PA 2015 website (pa2015.mwc-cmm.org). See if you can get the most creative picture of everyone in your Friendship Group, or invent the most creative MWC handshake/greeting with meaning! More tasks can be found in the Challenge document.
Half-Day Tour Reminder
If you have signed up for an afternoon tour, please arrive at least 15 minutes before your departure time in the Expo Hall (A). Tours will leave promptly at their appointed times.
Join for Prayer
All are welcome to attend a time of morning prayer in the Mennonite World Conference prayer room (Farm Show Complex, Erie Room) each morning from 8:30 to 9:15.
Tour Changes
Afternoon tour tickets are still available. The tour desk will be open from 12:00 to 16:00 Thursday and Friday in the Cameron Street Lobby. Please stop by the table with questions and to purchase tickets for afternoon tours. Payment for tours is cash only.
Workshop Changes
The workshop "Getting the Old Masters onto the Church Screen" (Thursday, 13:30) has been canceled.
The workshop "Alternatives to Violence" (Thursday, 13:30) has also been canceled.
Translators Needed
The Assembly Communication team is looking for people to translate written English text into Spanish and French. If you can volunteer for one or more four-hour shifts, mornings or afternoons, Thursday through Saturday, contact jnofziger@lmhs.org or text 717-917-2701. The Assembly Communication team is also looking for a French editor who could devote about one hour per day to review translated text.
City Island Trips
An MWC bus will make trips to Harrisburg's City Island each day. There are a variety of family-friendly activities on City Island, including a steam train, miniature golf, walking and more. If you would like to ride the bus to City Island, purchase a ticket at the tour desk. Each trip is $5 per person. The trips run either from 13:30 to 15:00 or 15:30 to 7:00, Thursday to Saturday.
TourMagination Reunion
Have you traveled with TourMagination or hosted our tour members? Thursday, 23 July at 17:15 please bring your dinner tray to eat with old friends and new, from far and near. Wilmer, Janet and Audrey will welcome you at the TourMagination tent. Text 519-741-6375 to find us.
Healthcare Workers Dinner
All healthcare workers are invited to a dinner meeting, Thursday, 23 July, 17:00-18:30 in the Monongahela Room. Evening meal provided free. Hear reports on healthcare ministries around the world. Sponsored by Mennonite Healthcare Fellowship, Mennonite Central Committee and International Mennonite Health Association. More information by texting name to 1-574-383-9398.
MCC Reunion
Gather with Mennonite Central Committee friends and alumni on Friday, 24 July from 15:30 to 17:00 in the Allegheny Room (H-3). A gathering in that room from 13:30-15:00 will celebrate participants in or hosts for one of MCC's young adult programs (IVEP, SALT, Seed, Summerbridge, Summer Service, YAMEN, etc.).
Protest Drone Warfare
Public witnesses to "Stop Drone Terrorism" are being organized by www.1040forPeace.org in the Pennsylvania State Capitol Rotunda on Friday, 24 July at noon, and at the emerging drone warfare command center in Horsham, Pennsylvania, on Saturday, 25 July. For more information and opportunities to sign up, visit the drone replica in the Global Church Village.
Recycle
When you have finished reading your daily news sheet, please recycle it.