Images in MWC art exhibit communicate at a deeper level
By Byron Rempel-Burkholder
Mennonite World Conference assemblies are often remembered as festivals of words: stories, songs, sermons and conversations. But what about visual art?
"There has been a surge of interest in art in the Anabaptist world," says Geoff Isley, PA 2015 visual arts planning team coordinator.
Following the tradition of the last few MWC gatherings, Assembly 16 featured six exhibits organized around themes, from Ray Dirks's On the Road to Freedom paintings of the suffering of the Mennonite migrations out of Russia, to a series of paintings of the stations of the cross, used liturgically in Community Mennonite Church in Lancaster, Pennsylvania.
For the first time, Assembly 16 also included a juried art exhibit.
Featuring some 30 paintings and sculptures, the collection reflects a variety of mediums and styles, from representational art to more abstract forms.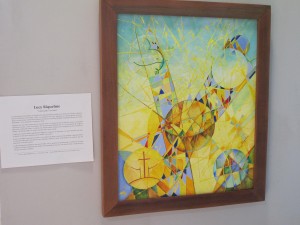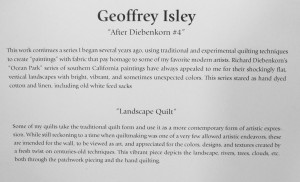 Isley did not want the exhibit to be tied to a particular theme, style or genre. Instead, the art pieces were to reflect a broad range of individuality, and ways in which art reflects spiritual experience.
A year prior to Assembly, the visual arts team invited churches to have their artists submit digital images of their art. Some 30 of these were selected by a juror, Messiah College art instructor Theodor Prescott, who was not part of the visual arts planning team.
Each art piece was accompanied by an artist statement that helps explain what is happening in the art.
Isley is pleased with the interest assembly-goers have shown. He was, however, disappointed that there was only one submission from outside of North America: an abstract painting by Lucy Riquelme of Chile, entitled "Walking with Jesus."
The logistics of transporting art across borders may be a factor.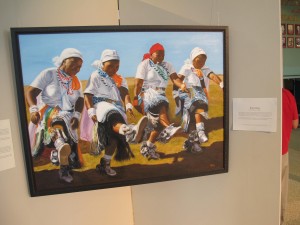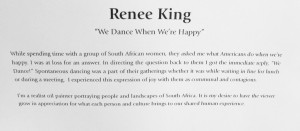 Still, the juried exhibits and the non-juried shows (displayed in the mezzanine above the Global Village area) offered a way for assembly participants to communicate and learn at a level deeper than words.
"We wanted people from outside North America to know that [visual communication] is important, too," says Isley.
Byron Rempel-Burkholder is a freelance writer and editor from Winnipeg.