Behind the scenes at the Global Church Village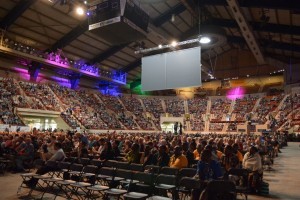 By Harriet Sider Bicksler
A rooster on Skype. A grass hut and miles of Velcro. Baskets and the big five. How did all these seemingly unrelated things come together as part of the Global Church Village?
First, the rooster.
Vikal Rao from India has served as the overall coordinator for the Global Church Village at Mennonite World Conference's PA 2015 in Harrisburg, Pennsylvania.
Having served as a youth steward during the 1997 assembly in Kolkata, Rao had a vision for what he wanted to create in 2015. He made two trips to the USA to visit the Farm Show complex so he would know how to match his vision with the realities of the space the Village would occupy.
Working with regional coordinators and continental hosts, as well as onsite coordinators Art Bert and his wife Donna from Dillsburg, Pennsylvania, meant lots of Skype calls. Bert remembers at least one Skype call that was regularly punctuated by a rooster crowing in the background in Kenya.
What about the grass hut and the Velcro?
Bert received all kinds of requests for help from the continental regions as they developed materials for their tents.
For example, India wanted a grass hut. To meet that request, Bert found two families in Pennsylvania who had previously lived in Asia. They volunteered to make the hut.
Miles and miles of Velcro was just one item in a long list of basic supplies needed to construct all the displays, says Bert.
And the baskets and "big five," which were featured in the Africa tent?
Virginia Moyo, who helped to organize the Zimbabwe section of the tent, explained that they wanted to show their pride in the work of their hands and how they use only materials readily available. As part of their contribution to the Africa tent, they brought hand-woven baskets and wood carvings of the animals known to wild animal enthusiasts as the "big five": lion, elephant, Cape Buffalo, leopard and rhinoceros.
Women wove the baskets, men did the woodcarving.
Now that the Global Church Village is in full swing, how do Rao and Bert feel about all those hours of dreaming up possibilities, making Skype calls, requesting diverse materials, and, yes, even some snafus along the way?
Rao looks around. "I'm happy. I wanted a place where people could fellowship with each other, share their faith and learn together. That is happening."
Bert too surveys the scene: "Isn't this just so cool?"
Harriet Sider Bicksler is retired from a career as writer and editor. She continues to serve as editor for the Brethren in Christ Historical Society in the Harrisburg area.